Kim and Lisa Capeloto to be honored with the 2023 First Citizen Award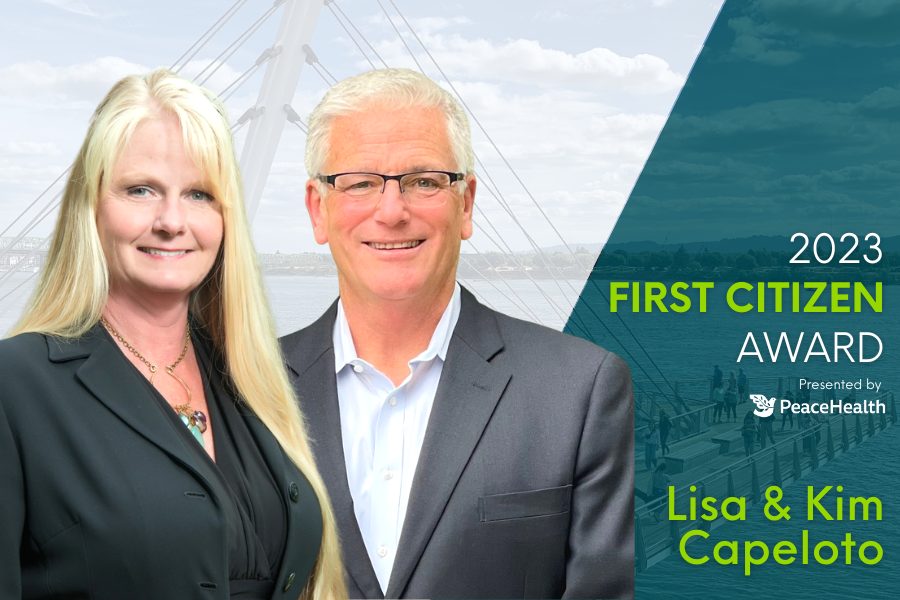 KIM AND LISA CAPELOTO TO BE HONORED WITH THE 2023 FIRST CITIZEN AWARD
Dynamic duo recognized for their transformative impact, civic dedication, and philanthropic prowess. 
Vancouver, WA- The Greater Vancouver Chamber (GVC) and PeaceHealth proudly announce Kim and Lisa Capeloto as the distinguished honorees of the 2023 First Citizen Award. This prestigious accolade celebrates the power couple's extraordinary contributions to the community, remarkable leadership, and commitment to civic engagement. 
As active pillars of the southwest Washington community, Kim and Lisa Capeloto have left an indelible mark through their dedicated efforts, visionary leadership, and compassionate service. The commitment of this dynamic duo to foster community growth, business development, inclusivity, and advocate for positive change has made a profound impact on the lives of countless individuals within our region. 
The First Citizen Award, a time-honored tradition since 1939, exemplifies the qualities of exceptional citizenship. Kim and Lisa Capeloto embody these values through their continuous support of local initiatives, their championing of causes that uplift the community, and their dedication to creating a more vibrant and interconnected society. 
"The community we live and work in, is a rare gem and we feel truly blessed to be a part of it. The previous First Citizen award winners have set a great example for us all to follow. To receive this award is incredibly humbling, and we are deeply honored," said Kim Capeloto about this recognition.  
Kim and Lisa Capeloto's Impactful Journey 
Kim's distinguished career in banking spans over three and a half decades, resonating through the national, regional, and local banking landscape of the Pacific Northwest. His roles in influential organizations like the Northwest Association for Blind Athletes, Humane Society for Southwest Washington, the Greater Vancouver Chamber, among others, have solidified his status as a community leader. He has gone beyond by supporting over 40 nonprofit events as an emcee, raising hundreds of thousands of dollars as well as their respective profiles and causes.
Kim's sphere of influence extends further through his dedicated service on boards for Identity Clark County, the School of Piano Technology for the Blind, and various foundations, and committees. These roles don't just signify his dedication but spotlight his prowess in leadership and community engagement.  
Lisa Capeloto, equally impressive, radiates philanthropic leadership. With over a decade devoted to event planning, fundraising development, and volunteering, she's lent her efforts to impactful organizations like the PeaceHealth Southwest Medical Center Foundation and CDM Caregiving Services. Recently joining CDM Caregiving Services as Development Director, Lisa's role in formulating donor strategies and broadening fundraising initiatives stands as a testament to her commitment.  
Together, Kim and Lisa constitute a power force. Kim's work in economic growth and community development pairs perfectly with Lisa's philanthropic endeavors, ensuring a safety net for the most vulnerable in the community.  
Both are bound by a shared passion for service, and their combined expertise magnifies their impact, radiating positive change across southwest Washington. 
Celebrating the Capelotos' Triumph 
The Capelotos will be officially honored during the upcoming 2023 Business & Leadership Awards ceremony, presented by Riverview Bank, which will be live streamed on October 5th, 2023, at 5:00 p.m, via Facebook Live.  
The celebration of the First Citizen holds significant meaning for our award sponsor PeaceHealth. Back in the past, precisely 165 years ago, Mother Joseph, the founder of the first hospital in the Pacific Northwest, displayed exceptional determination. She mobilized the community at Fort Vancouver and beyond, gathering funds and expertise to establish the hospital. "Today, 165 years later we carried on her mission and that is exactly what this award is about. We are thrilled to recognize two people that carry that type of leadership for here in our community," mentioned PeaceHealth Columbia Network Chief Executive Sean Gregory.      
This year's event will not only honor the Capelotos but will also recognize local businesses and individuals across diverse categories including Start-Up to Watch, Small Business, Large Business, and Statesperson. 
Adding an in person option to the occasion, community members can participate in the celebration firsthand this year. An exclusive VIP Social event at the Battle Ground Community Center from 4:00 PM to 6:00 PM on October 5th promises an emotional experience of jubilation, as we gather to watch the awards unfold and raise a collective toast to the achievements of these business finalists. Those wishing to be part of this extraordinary celebration can secure tickets through https://vancouverusa.chambermaster.com/eventregistration/register/23048. 
"We are absolutely delighted to honor Kim and Lisa Capeloto as the well-deserving recipients of the 2023 First Citizen Award. Their commitment to community development, transformative efforts, and enduring impact have left an indelible footprint on our region," acknowledged GVC President & CEO John McDonagh. 
The GVC's Business & Leadership Awards are made possible through the generous support of event sponsors, including Presenting Sponsor, Riverview Bank; Media Sponsor, The Columbian; and Award Sponsors, PeaceHealth, PacificSource Health Plans, HAPO Community Credit Union, Perkins & Co, and NW Natural. To save the date and receive updates of when the awards ceremony goes live, visit: https://www.facebook.com/events/6876607775694796. 
For more information about the awards and sponsorship opportunities, please contact the Chamber at YourChamber@VancouverUSA.com or go to VancouverUSA.com/Business-Leadership-Awards/.  
About the First Citizen Award
Since 1939, the annual First Citizen Award has been presented to a Clark County resident who models the attributes of good citizenship through leadership, action, civic pride, and cultivates inclusive civic engagement practices. These are individuals who, through their business, volunteering, and philanthropic efforts, improve the lives of those in the community by serving first. For more information about the First Citizens through the years, visit: https://www.vancouverusa.com/business-leadership-wards-winners/   
About the Greater Vancouver Chamber
SW Washington's largest business organization, the Greater Vancouver Chamber (GVC), with nearly 1000 members, has been Moving Business Forward in southwest Washington for over 130 years through business advocacy, community building, education, and creating visibility for our members. The Chamber is a supportive alliance of diverse member businesses, individuals, and organizations, working together toward long-term business prosperity. The GVC is the heart of Clark County's business community, advocating for sound, sensible and dynamic policies that ensure a vital economic climate and prosperity for all. For more information, please visit VancouverUSA.com.