We want to celebrate you!
Ribbon Cutting ceremonies are an exclusive members-only benefit, where we provide:
The opportunity to schedule our staff and volunteers to participate in your event.
Free event announcement in GVC E-Newsletter
A GVC Media List - upon request
The option to reserve ceremonial scissors.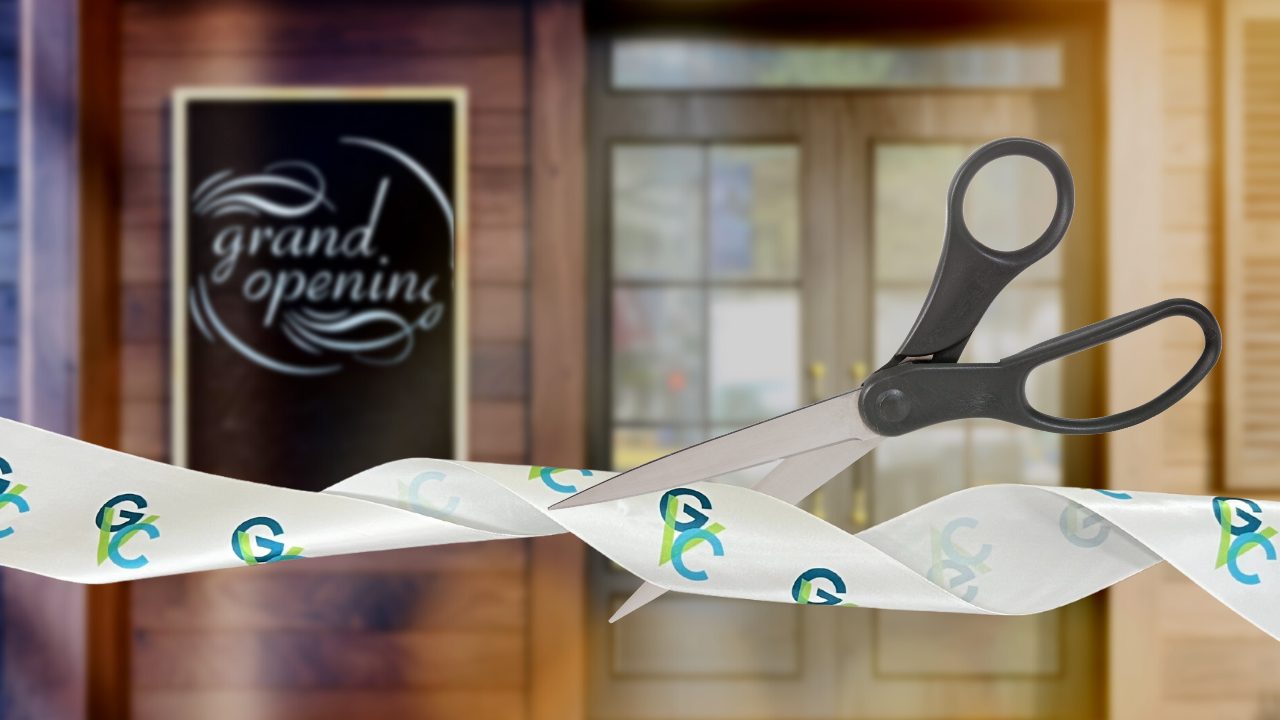 Volunteer at a Ribbon Cutting!
If you like networking, supporting local businesses and creating connections around the city, we would love for you to join us at Ribbon Cuttings!
We are very happy to assist with your special event!
Borrowing the Greater Vancouver Chamber's ceremonial scissors or having a Chamber staff or volunteer presence at an event is a service we proudly provide our members.
There are just a few guidelines and pieces of information to remember as you plan your celebration.
If you would like a Chamber presence (staff and volunteers) at your ribbon cutting, we are currently offering these days and times:
Tuesdays 10 - 11 AM
Thursdays 4 – 5 PM

If you have been a GVC Member for 5+ years, please fill out the form to discuss dates.
In order to schedule a Chamber presence at your ribbon cutting or ground breaking, your company should meet one of the following criteria:
New – breaking ground or have opened your doors within the past 12 months (not including any COVID shutdowns)
Changed ownership or management within the past 6 months
Moved to a new location or had a remodel/expansion at your present location
Celebrating a milestone anniversary – 5, 10, 15, 20, 25 years+
In case of inclement weather (Public Schools close), our staff and volunteers will not be able to attend your scheduled event. If you choose to reschedule, we will gladly work to find another date with you.
Pay it forward
You're part of the largest professional business network in the region. Attend ribbon-cuttings and groundbreakings to celebrate and support fellow members and continue to grow your professional network. Be in the know about what's happening with the growing and thriving business.
Opt for a Social Celebration with a "Ribbon Tying"!
Ribbon Tyings offer your business or organization a fun, easy, and everlasting way to celebrate your milestone through a GVC curated video! All you have to do is provide photos, details about your business, and a 1-minute video clip that tells the world who you are, we do the rest!
The video will then be shared with the business community on GVC's social media and is yours to keep and share as you please! Find examples here!
How to Host a Succesful Event
To minimize the potential for conflict, avoid scheduling your event around holidays and other community events – this can reduce turnout for yours. Also consider how the time of day might affect your guest attendance and plan accordingly.
If you are counting on key dignitaries/civic leaders to speak or attend your event, it is important you check their calendars in advance to confirm attendance before you finalize your invitation to others.
The following links can help you quickly avoid a scheduling issue:
You can also check local media outlets regarding area happenings; school districts/colleges to find information on their events/graduations; and even the Greater Vancouver Chamber calendar to avoid other large event conflicts.
Generally, the location of your event should be the location which is opening/re-opening or where the construction will take place. It is important to think through your venue and how you will safely accommodate those you invite. Make sure to give any neighbors and/or your landlord a heads up that there will be guests in and around your location.
If you plan to be outdoors, make a back-up plan for inclement weather. Also, be mindful of the fire code/occupancy regulations if you plan to have people inside a location.
Don't forget about signage and parking. Clearly mark where your guests should park and where your building entrance is (or where you expect guests to gather outside).
Your ribbon cutting or groundbreaking event is a great opportunity to bring people together and highlight your business.
This is your event so we encourage you to think about inviting anyone supportive of your business. Not everyone will be able to attend, but this celebration can be as large or small as you'd like it to be.
These are some individuals you may wish to invite:
Employees
Family and friends
Customers
Vendors/suppliers
Business partners/advisors like your banker, lawyer, accountant, contractors, etc.
Neighboring businesses
Prospective customers
Organizations/non-profits you and/or your business supports
Other dignitaries from key civic, professional, trade or business organizations
Your employee's family members, past employees, or others who are supportive
Based upon the size and scope of the event, you may need to make various arrangements.  This can include:
Agenda
Props
Other rentals, such as a sound systems or chairs
Food and drink
Presentations
Photography
Staff assignments
The event can be as grand or as intimate as you would like!
We suggest that you promote your event prior to your date of hosting. Sending invitations to your guest list will be where most of your event attendance will come from. If you have invited the Chamber to participate in the event, this will include 1-2 GVC staff members.
On the day of the event, be sure to share photos of your event on social media and tag @YourChamber with the hashtag #GVChamber.