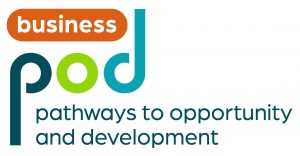 The Greater Vancouver Chamber is investing in the community and is excited to offer valuable assistance to business owners and entrepreneurs who live in the Southwest Washington region and want to start a business. The Business POD Program is designed to empower and educate small business owners through workshops and individual and peer cohort coaching sessions.
We want to get to know you! 
Business POD offers a variety of valuable resources to existing business owners, brand new start-ups, and even those who have an idea and want to start a business! Respond to this survey and we will help guide you to the resources that will help you the most.
Built to Assist Local Businesses Like Yours!
Over 200 small businesses have trusted us to help them start their new venture. GVC's Business POD can help you at no cost!
Congratulations! You are probably either a budding entrepreneur or an experienced business owner. Either way - we are excited you're here.
New business owners will find guides, resources, and more here that can help answer startup questions. But you can't afford to miss our events, which offer some of the region's best networking opportunities.
Experienced business owners will find quick links to common operations needs, wisdom from peers, and the 'next big thing' from our social media and news feeds. Are you in the manufacturing, professional services, or medical fields?
Learn how we could reduce your Workers' Compensation insurance premiums by nearly 30% →
Not sure where or how to start your business in the Greater Vancouver area? Do you get a business license or an EIN first? (What even is an EIN?) Find these answers and more in Washington's Road Map for Opening a Business.
Why Join the Greater Vancouver Chamber
Being part of your local chamber provides you and your business a group of like minded peers to learn from, to support one another, and advocate for business-friendly policies as a unified voice.
Small businesses in the Greater Vancouver area make up the majority of the Chamber's membership. We estimate that over 70% of our member businesses have ten full-time employees or fewer. Our data suggests a staggering 80% of new GVC members over the past four years have five employees or fewer.
The GVC is committed to supporting, educating, and nurturing small businesses throughout the region. Take advantage of all the investments the community is making in businesses like yours: Join the GVC today!
If you have any questions about the Business POD, please email us at GVCPOD@thepeakfleet.com or request information below.