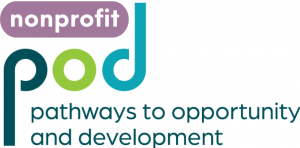 The Greater Vancouver Chamber is excited to offer valuable assistance to nonprofits organizations throughout the Southwest Washington region in the areas where they need it most! The Nonprofit POD Program was built to aid and assist non-profit Staff, Executive Directors, CEOs, and Development Professionals through workshops, expert assistance, and curated cohorts that discuss relevant topics. This program provides access to a network of experienced experts and will bring advocacy, training, and civic engagement to our region's nonprofits. 
Introducing Nonprofit POD Learning Circles
QUARTERLY COHORTS | BEGINING IN 2024!
ALL NONPROFIT CEO LEARNING CIRCLE
Inviting CEOs and Executive Directors of any size nonprofit
Providing a dynamic platform for leaders from diverse organizational scales to exchange wide-ranging perspectives, unite in problem-solving, and harness collective insights for sector-wide impact.
FUNDRAISING LEARNING CIRCLE
Inviting all staff of any size nonprofit
A collaborative incubator for nonprofit staff members to refine fundraising skills, share innovative strategies, and collectively enhance their resource development prowess.
LARGE NONPROFIT CEO LEARNING CIRCLE
Inviting CEOs and Executive Directors of nonprofits with 

$1M or more in gross receipts each year
MEDIUM NONPROFIT CEO LEARNING CIRCLE
Inviting CEOs and Executive Directors of nonprofits with 

$250K - $1M in gross receipts each year
SMALL NONPROFIT CEO LEARNING CIRCLE
Inviting CEOs and Executive Directors of nonprofits with 

$250K or less in gross receipts each year
Registration will be open soon!
Attention Grant Writers: Your Skills Needed Now!
The Greater Vancouver Chamber is on the lookout for grant-writing maestros! With over 115 nonprofits under our umbrella and an expanded Nonprofit POD due to our recent integration of the Nonprofit Network, the demand for expert grant-writing assistance has never been greater. Our vast nonprofit community is poised to make remarkable strides in southwest Washington, and your expertise could be the catalyst for their transformative projects and initiatives. CLICK HERE to dive into the details & join our mission!
Tell us about your organization! 
The Nonprofit POD will allow you to access resources specific to your area of expertise and position. Respond to this survey and we will guide you to the resources that will help you the most.
Meet your nonprofit peers...
Looking for nonprofit organizations in the SW Washington region? Here we provide a list of nonprofit organizations in the area. Click their individual profiles to learn more about their mission, programs, and services.
Opportunities for Nonprofit Members at GVC
Submit Your Events: Want to drum up interest in your upcoming event? Nonprofits can submit their own fundraisers and community events open to the entire public to our Nonprofit POD Events Calendar. Your event may be promoted by the GVC on social media and in eNewsletters. Submit your event →
Review Event Calendar Guidelines
Submit Volunteer Openings and Jobs: Are you hiring? Looking for volunteers? Submit your opening through our members-only portal and get it noticed! All openings are available to the public. Login and submit →
Networking In-Person and Online: We love to build connections! Join us in-person or online for one of our many regular networking events. Haven't joined us for online networking yet? You are going to be blown away! Events calendar →
Diversity, Equity, and Inclusion (DEI): Our DEI practice is an ongoing effort to build more equitable opportunities for our community, professionals, and organizations. Leading this process at the GVC is our DEI Committee. Learn more →
Why Join the Greater Vancouver Chamber
Southwest Washington is home to some of the Pacific Northwest's most effective nonprofits, advocacy groups, and community organizations. The Northwestern spirit of giving and mutual support is most apparent when we come together toward a common cause.
The Greater Vancouver Chamber (GVC) connects these organizations with corporate partners and private donors to build supportive networks while decreasing duplication of efforts.
Our mission for serving nonprofits is to be an ally for ongoing fund development, connect our community with cause, and to support networking and partnership opportunities across the region.
Take advantage of all the investments the community is making in organizations like yours: Join the GVC today!
Calling all Nonprofits!
The GVC's Nonprofit POD is here to uplift and empower your organization. We're dedicated to creating tailored programs that fuel your growth, development, boost visibility, and foster connections, but we need YOUR voice to make it happen! Help us shape these exciting initiatives by participating in a quick survey. Your valuable insights will be the driving force behind our efforts to meet your unique needs and goals.