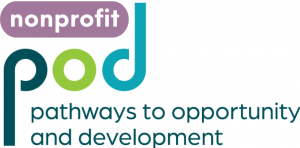 The Greater Vancouver Chamber is excited to offer valuable assistance to nonprofits organizations throughout the Southwest Washington region in the areas where they need it most! The Nonprofit POD Program was built to aid and assist non-profit Staff, Executive Directors, CEOs, and Development Professionals through workshops, informative webinars, expert advice, and peer cohort coaching sessions.
Tell us about your organization! 
The Nonprofit POD will allow you to access resources specific to your area of expertise and position. Respond to this survey and we will guide you to the resources that will help you the most.
Why Join the Greater Vancouver Chamber
Southwest Washington is home to some of the Pacific Northwest's most effective nonprofits, advocacy groups, and community organizations. The Northwestern spirit of giving and mutual support is most apparent when we come together toward a common cause. The Greater Vancouver Chamber (GVC) connects these organizations with corporate partners and private donors to build supportive networks while decreasing duplication of efforts.
Our mission for serving nonprofits is to be an ally for ongoing fund development, connect our community with cause, and to support networking and partnership opportunities across the region.
Take advantage of all the investments the community is making in organizations like yours: Join the GVC today!
How GVC Serves Nonprofits
Savor the Couve
What began as an answer to support local restaurants, grew quickly to include tap rooms, breweries and wineries along with 16 nonprofit organizations. Popular demand has made it a biannual, weeks-long event that combines the power of five-course takeout dinners with nonprofit giving! So far, this program has generated $70,000 for 27 area nonprofit organizations and we aren't slowing down.
Executive Women's Council
Supporting women in executive positions, at corporations and nonprofits alike, is a mainstay at the GVC. Find camaraderie and mutual support while learning from one another at our quarterly Women's Executive Council workshops.
Grow the (360)
This 'locals only' gift certificate program offers a unique way for community members to support local businesses and give back to local nonprofits as well. Grow the (360) certificates can be spent at 70+ locations across the Greater Vancouver area. Every time a gift certificate is redeemed at a participating merchant it can mean dollars for your nonprofit. Interested in having your nonprofit participate?
Event and Program Partnerships
The GVC hosts and co-hosts Southwest Washington's premiere professional workshops, networking events, and celebrations. We are continuously looking for partnership opportunities with nonprofits. Could you be our next great fit?
Opportunities for Nonprofit Members at GVC
Submit Your Events
Want to drum up interest in your upcoming event? Members can submit their own community events, fundraisers, and more online through their Member Information Center (MIC). Your event may be promoted by the GVC on social media and in eNewsletters.
Networking In-Person and Online
We love to build connections! Join us in-person or online for one of our many regular networking events. Haven't joined us for online networking yet? You are going to be blown away!
Submit Volunteer Openings and Jobs
Are you hiring? Looking for volunteers? Submit your opening through our members-only portal and get it noticed! All openings are available to the public.
Diversity, Equity, and Inclusion (DEI)
Our DEI practice is an ongoing effort to build more equitable opportunities for our community, professionals, and organizations. Leading this process at the GVC is our DEI Committee.