The Leadership Conference for Everyone!
The Greater Vancouver Chamber brings you an empowering event dedicated to celebrating and advancing professional women! Focusing on inclusivity and growth, Inspire HER is open to professionals of all levels and anyone who wishes to attend, regardless of gender.
MARCH 7, 2024 | HILTON DOWNTOWN VANCOUVER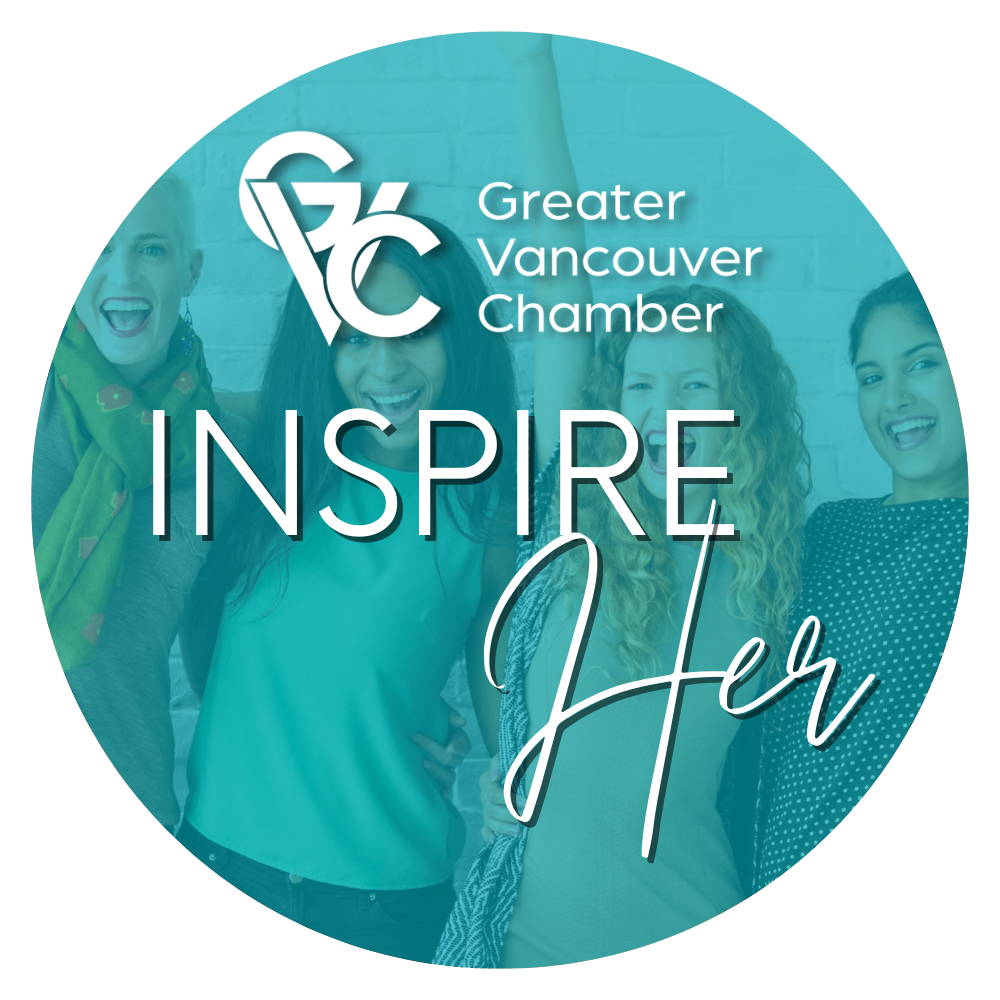 The Inspire HER conference aims to provide a supportive environment where attendees can gain valuable insights, develop crucial skills, and connect with like-minded individuals. 
In addition to an unforgettable Keynote, Inspire HER offers a diverse range of breakout sessions led by industry experts. These interactive sessions delve into various aspects of leadership and professional development. Attendees will have the opportunity to learn from experienced professionals, engage in meaningful discussions, and acquire practical tools to navigate their careers successfully.
8:00 AM | WELCOME RECEPTION
9:00 AM | KEYNOTE SPEAKER
11:00 AM | MORNING BREAKOUT SESSION
12:00 PM | 2024 IRIS AWARDS LUNCHEON
2:00 PM | AFTERNOON BREAKOUT SESSIONS
4:00 PM | "WOMEN & WINE" RECEPTION
SPEAKERS & BREAKOUT SESSIONS

Who Should Attend?
Whether you are a seasoned professional looking to enhance your leadership skills or an aspiring individual seeking guidance and inspiration, Inspire HER is the perfect platform to connect, learn, and grow. Join us at this transformative event, where we celebrate the power of women in leadership and embrace the endless possibilities that lie ahead. This event is open to all.
GVC Member Individual Ticket
$150.00
Ticket Provides Admission for ONE to the Inspire HER Conference & Access to the 2024 Iris Awards
Non-Member Individual Ticket
$175.00
Ticket Provides Admission for ONE to the Inspire HER Conference & Access to the 2024 Iris Awards
Conference VIP Table for 8
$ 1500.00
Make an impact on your team! Connect with the GVC team (Parnertships@VancouverUSA.com) and ask about a VIP Table! Take advantage of this opportunity to strengthen your team and offer development and leadership training to your staff.
As part of the conference, we are proud to host the prestigious 2024 Iris Awards, presented by Riverview Bank.
The Iris Awards recognize and honor exceptional women who have made significant contributions to their industries and communities. These awards serve as a testament to the dedication, resilience, and achievements of these remarkable individuals, inspiring others to follow in their footsteps. Access to the Iris Awards Luncheon is included in your ticket to Inspire HER Conference. 
Looking to attend the 2024 Iris Awards?
All Inspire HER attendees will receive automatic access to the Iris Awards Luncheon. If you would like to attend the Iris Awards Luncheon ONLY find tickets below.
GVC Member Individual Luncheon Ticket
$75.00
Ticket Provides Admission for ONE to the 2024 Iris Awards
Non-Member Individual Luncheon Ticket
$85.00
Ticket Provides Admission for ONE to the 2024 Iris Awards
Luncheon VIP Table for 8
$ 800.00
Ticket Provides Admission for 8 to the 2024 Iris Awards with named VIP table
Thank you to our Sponsors