Greater Vancouver Chamber Revealed The 2023 Iris Award Honorees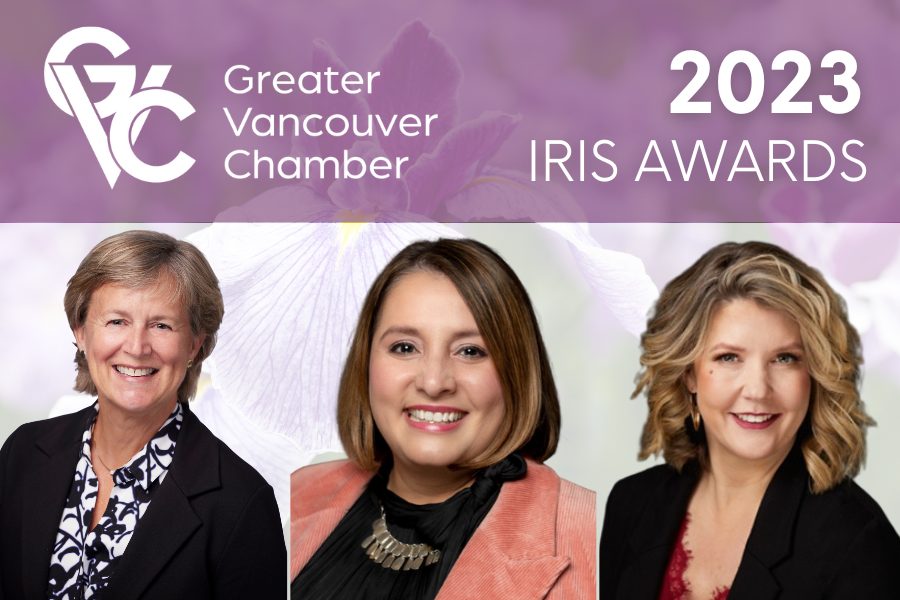 GREATER VANCOUVER CHAMBER REVEALED THE 2023 IRIS AWARD HONOREES 
The Chamber announced that the Iris Award ceremony will be held in person next year. Each year, outstanding women leaders in southwest Washington are recognized for their significant contribution to the community.   
Vancouver, WA- The Greater Vancouver Chamber (GVC) was honored to announce the 2023 Iris Award recipients, during a virtual ceremony, concluding its half-day, Women Who Mean Business Symposium, presented by LSW Architects. Three women of achievement who embody outstanding leadership, philanthropy, and public service were recognized for their contributions and dedication to the community.    
In celebration of International Women's Day, the event honored ten exceptional women finalists and presented three Iris Awards to deserving recipients. Each honoree delivered a heartfelt acceptance speech, broadcast virtually to the audience who shared their congratulations and enthusiasm through the virtual chat. It was an inspiring gathering that recognized the contributions and achievements of women from diverse backgrounds and industries.
In order of announcement, the 2023 Iris Award honorees are featured below with excerpts from their nominations:   
Lisa Dow, Executive Vice President & Chief Risk Officer at Umpqua Bank

:

Lisa is a

career-long banker and the only woman among

eight chiefs at the bank.

Even with such a demanding job, Lisa

always finds a way to make time and volunteer

hundreds of hours giving back to the community in board leadership roles for numerous organizations acr

oss southwest Washington

. She is an excellent advocate in helping others achieve their goals whether that be in their professional career or as a volunteer in the community.  

 
 

Monica Tellez-Fowler, Deputy Chief Executive Officer at C-TRAN:

Monica is an accomplished public transit professional and selfless public servant. She is heavily involved in working to provide access to education, jobs, and healthcare for our residents in Clark County by working closely with city staff and community leaders, whether elected or with nonprofit associations. Having spent nearly her entire career within the public sector, she lives and breathes life into the communities where she has lived. Both inside and outside of C-TRAN, Monica freely gives her time to be a mentor and professional assistant to those who are looking for guidance.  
Amy Reeves, Vice President SW Washington Area Manager at OnPoint Community Credit Union:

Amy's

commitment to philanthropy is exemplary, and she serves as an outstanding model of a savvy businesswoman, wife, and mother. Integrity and her relentless pursuit of excellence, according to her nominators, is the cornerstone of Amy's leadership style. Most importantly, Amy's selflessness shines through in all aspects of her life, and she sets an admirable standard for others to follow. Her unwavering dedication to improving our community and the extensive amount of time and resources she spends serving several nonprofit boards and committees throughout Clark County is truly inspirational.

 
During the virtual ceremony, the Emcee, Cyndi Holloway, Governmental & Community Affairs Director at Waste Connections, and past Iris Award honoree, presented each finalist with their acknowledgements before inviting the event's award sponsors to announce each winner. Sponsors of the 2023 Iris Awards included supporting sponsor Riverview Bank, community partner Umpqua Bank, and awards sponsors Legacy Health, OnPoint Community Credit Union, and KeyBank.    
 "As we marked International Women's Day, the 2023 Iris Awards gave us the opportunity to continue celebrating and recognizing women leaders in our community that are driving growth and change. These women are role models, change-makers, leaders, and visionaries, who inspire us to forge ahead. We extend our heartfelt congratulations to our award honorees. They are a testament to the exceptional leadership, talent, strength, and dedication of the women in this region," said GVC President & CEO John McDonagh.    
The Iris Awards successfully concluded this year's Women Who Mean Business Symposium, hosted by the Greater Vancouver Chamber. Over 200 local professionals virtually joined this half-day leadership conference, individually and through watch parties. This event, designed to champion professional men and women across the region, featured renowned speakers Kim Boudreau Smith, Shae Frichette, and Michael Sherlock, who had engaging talks with attendees and delved into a variety of topics, including overcoming imposter syndrome and supporting women on their path to successful leadership.  
After three successful years of hosting the Women Who Mean Business Symposium virtually, the Chamber is delighted to announce that the next edition will be held in person. The event promises to be a transformative experience for business professionals, providing a forum to exchange ideas, share insights, and gain valuable leadership skills. With multiple keynote and breakout presentations by esteemed experts in their respective fields, the all-day conference will be a unique opportunity for attendees to empower their careers and expand their networks. According to Janet Kenefsky, Vice President of Operations for the Chamber, "We are thrilled to bring this esteemed gathering back to an in-person setting and look forward to creating a dynamic and engaging experience for everyone involved." 
The 2023 Women Who Mean Business Symposium was presented by LSW Architects and supported by additional sponsors, HAPO Community Credit Union, MacKay Sposito, Regence BlueCross BlueShield of Oregon, Columbia Credit Union, Johnson Bixby, Columbia Machine Inc., Palm Beach Tan, The Columbian, NW Natural, and Corwin Beverage Company.       
Learn more about sponsorship opportunities and how to get involved in next year's Women Who Mean Business Symposium and Iris Awards at VancouverUSA.com/WomenInLeadership.   
About

the Iris Awards   
Wanting to recognize women of achievement in Southwest Washington who exemplified leadership, philanthropy, and community service was the inspiration for the Iris Awards in 1985. For 38 years, the southwest Washington community has nominated outstanding women for recognition. The Iris Award is held to commemorate National Women's History Month, to recognize International Women's Day, and to honor volunteer efforts and community leadership of women in Clark County.     
About

the Greater Vancouver Chamber
SW Washington's largest business organization, the Greater Vancouver Chamber (GVC), with nearly 1000 members, has been Moving Business Forward in southwest Washington for over 130 years through business advocacy, community building, education, and creating visibility for our members. The Chamber is a supportive alliance of diverse member businesses, individuals, and organizations, working together toward long-term business prosperity. The GVC is the heart of Clark County's business community, advocating for sound, sensible and dynamic policies that ensure a vital economic climate and prosperity for all. For more information, please visit VancouverUSA.com.