Greater Vancouver Chamber Announces the 2023 Iris Awards' Finalists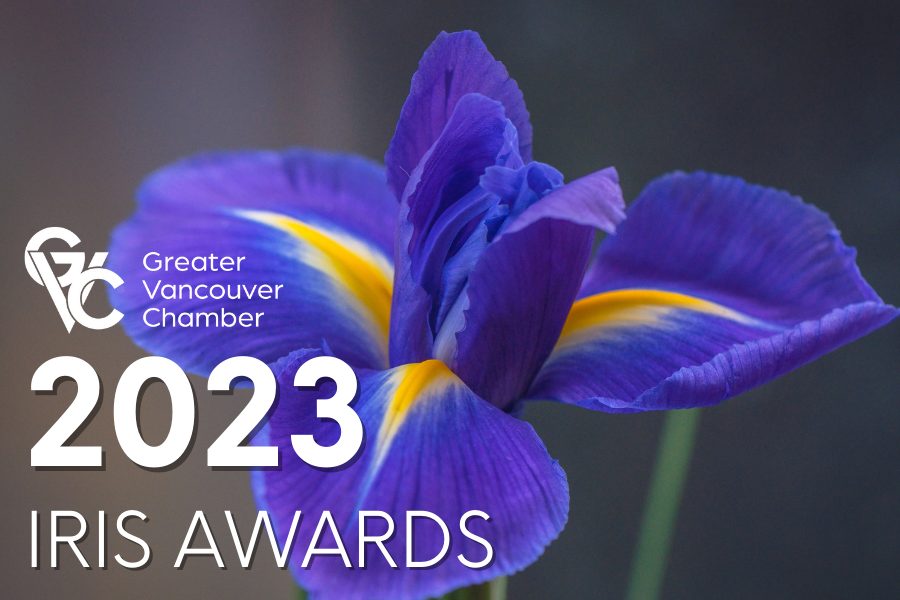 GREATER VANCOUVER CHAMBER ANNOUNCES THE 2023 IRIS AWARDS' FINALISTS 
The awards, presented in observation of International Women's Day, annually recognize outstanding women for their efforts and impact in the Southwest Washington region. 
Vancouver, WA - The Greater Vancouver Chamber (GVC) is pleased to announce the finalists for the 2023 Iris Awards, presented by LSW Architects. The three recipients of this year's awards will be revealed in a virtual ceremony at 12:00 pm, following the GVC's Women Who Mean Business Symposium on Wednesday, March 8. 
For over three decades, the Iris Awards have shone a spotlight on the remarkable women of Southwest Washington who have made a lasting impact on their community. Since its inception in 1985, this prestigious award has celebrated the exceptional achievements of women who embody outstanding leadership, philanthropy, and public service. 
Every year, the Greater Vancouver region nominates women who have made a significant contribution to the community. These women are recognized for their outstanding commitment to making the region a better place through their tireless work and dedication. 
The Iris Awards are a testament to the incredible talent, strength, and dedication of the women in Southwest Washington. Through their leadership, these women inspire us all to strive for excellence and make a positive difference in the world around us. 
The finalists for the 2023 Iris Awards are:   
Amy Davis-

Senior Vice President Business Banking

, Columbia Bank 

 

Amy Reeves-

Vice President SW Washington Area Manager

, OnPoint Community Credit Union  

 

Colleen O'Neal- Co-Board President, Battle Ground Education Foundation   

 

Debbie Ham- Executive Director, Support for Early Learning & Families (SELF)

 

Holly Williams- Commissioner,

Washington State Parks, and Recreation Commission

 

Jan Van Dyke-

Commissioner

, Clark Public Utilities 

 

Dr. Karin Edwards- President, Clark College 

 

Linda Reid-

Senior Vice President Relationship Banking Officer

, Heritage Bank 

 

Lisa Dow-

Executive Vice President & Chief Risk Officer

, Columbia Bank

 

Monica Tellez-Fowler- Deputy Chief Executive Officer, C-TRAN  

 
"These remarkable individuals represent the best and brightest talent in our community, and they inspire us all with their dedication, creativity, and vision. We are proud to be part of a community that continues creating opportunities for women to lead, to innovate, and to excel. The Chamber received a record number of nominations this year! Congratulations to our 2023 Iris Awards finalists and thank you for all that you do to make our Greater Vancouver a better place," said GVC President & CEO John McDonagh.    
Sponsors of the 2023 Iris Awards include supporting sponsor Riverview Bank, and awards sponsors Legacy Health, OnPoint Community Credit Union, and Key Bank.   
The Women Who Mean Business Symposium is presented by LSW Architects and supported by additional sponsors, HAPO Community Credit Union, MacKay Sposito, Regence BlueCross BlueShield of Oregon, Columbia Credit Union, Johnson Bixby, Columbia Machine Inc., Palm Beach Tan, The Columbian, NW Natural, and Corwin Beverage Company.      
For more information about the Iris Awards, event tickets, and sponsorship opportunities, visit VancouverUSA.com/WomenInLeadership.   
About the Iris Awards
Wanting to recognize women of achievement in Southwest Washington who exemplified leadership, philanthropy, and community service was the inspiration for the Iris Awards in 1985. For 38 years, the southwest Washington community has nominated outstanding women for recognition. The Iris Award is held to commemorate National Women's History Month, to recognize International Women's Day, and to honor volunteer efforts and community leadership of women in Clark County.   
About the Greater Vancouver Chamber
SW Washington's largest business organization, the Greater Vancouver Chamber (GVC), with nearly 1000 members, has been Moving Business Forward in southwest Washington for over 130 years through business advocacy, community building, education, and creating visibility for our members. The Chamber is a supportive alliance of diverse member businesses, individuals, and organizations, working together toward long-term business prosperity. The GVC is the heart of Clark County's business community, advocating for sound, sensible and dynamic policies that ensure a vital economic climate and prosperity for all. For more information, please visit VancouverUSA.com.