Greater Vancouver Chamber Announces the 2022 Iris Awards' Nominees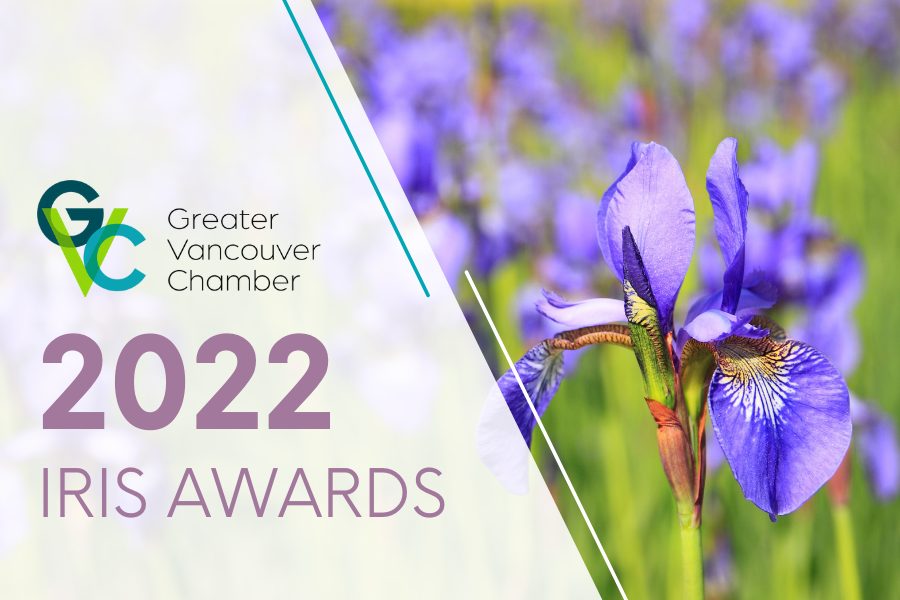 GREATER VANCOUVER CHAMBER ANNOUNCES THE 2022 IRIS AWARDS' NOMINEES
The awards, presented in observation of International Women's Day, annually recognize five outstanding women for their efforts and impact in the community. 
Vancouver, WA - The Greater Vancouver Chamber (GVC) is pleased to announce the nominees for the 2022 Iris Awards, presented by LSW Architects. The five award recipients will be revealed in a virtual ceremony at 4:00 pm, following the Women Who Mean Business Symposium on Tuesday, March 8. 
The Iris Award honors and recognizes women of achievement in Southwest Washington for their outstanding contributions to the community. Each year, community members nominate women throughout the Greater Vancouver region who represents exceptional leadership, philanthropy, and public service.  
The nominees for the 2022 Iris Awards are:  
Lindsey Salvestrin- Senior Vice President/ Chief Operating Officer, Columbia Credit Union

 

Monica C. Tellez-Fowler- Deputy Chief Executive Officer, C-TRAN 

 

Shara Wokal- Chief Financial Officer, LSW Architects 

 

Ali Migaki-

Senior Vice President/ Chief Retail Officer, iQ Credit Union

 

Dellan Redjou- Executive Director, Parks Foundation of Clark County

 

Dr. Megan Chono Dudley,

Pediatrics Specialist,

Kaiser Permanente

 

Cyndi Holloway- Governmental & Community Affairs Director, Waste Connections

 

Dena Strong- CEO, Innovative Services Northwest

 

Rosalinda Mendoza- Youth Program Coordinator, Latino Leadership Northwest

 

Jeanne Bennett- Chair of the Board of Directors, Columbia Play Project

 

Tamara Fuller- Senior Vice President, Capacity Commercial Group 

 

Lisa Gibert- CEO, Clark College Foundation

 
"Southwest Washington has exceptional women who have gone above and beyond for the community. It is exciting to see every year the overflow of nominations, and how the community members value and appreciate the work of our women leaders in the Greater Vancouver region. We invite the community to join us this March 8 to celebrate together these women of achievement," said Chamber President & CEO John McDonagh.   
Sponsors of the 2022 Iris Awards include Riverview Community Bank, Legacy Health, OnPoint Credit Union, The Peak Fleet, and Vancouver Clinic.  
The Women Who Mean Business Symposium is presented by, LSW Architects and supported by additional sponsors, HAPO Community Credit Union, Salsbury & Co., Schwabe Williamson & Wyatt, Wellhaven Pet Health, Columbia Credit Union, ilani, Johnson Bixby, Columbia Machine Inc., The Columbian, NW Natural, and OnPoint Credit Union.     
For more information about the Iris Award, event tickets, and sponsorship opportunities, visit VancouverUSA.com/WomenInLeadership.  
About the Iris Awards
Wanting to recognize women of achievement in Southwest Washington who exemplified leadership, philanthropy and community service was the inspiration for the Iris Awards in 1985. For 37 years, the southwest Washington community has nominated outstanding women for recognition. The Iris Award was held to commemorate National Women's History Month, to recognize International Women's Day, and to honor volunteer efforts and community leadership of women in Clark County.  
About the Greater Vancouver Chamber
SW Washington's largest business organization, the Greater Vancouver Chamber (GVC) has been Moving Business Forward in southwest Washington for over 130 years through business advocacy, community building, education, and creating visibility for our members. The Chamber is a supportive alliance of diverse member businesses, individuals, and organizations, working together toward long-term business prosperity. The GVC is the heart of Clark County's business community, advocating for sound, sensible and dynamic policies that ensure a vital economic climate and prosperity for all. For more information, please visit VancouverUSA.com.