Greater Vancouver Chamber Launches Registrations for 2024 National Civics Bee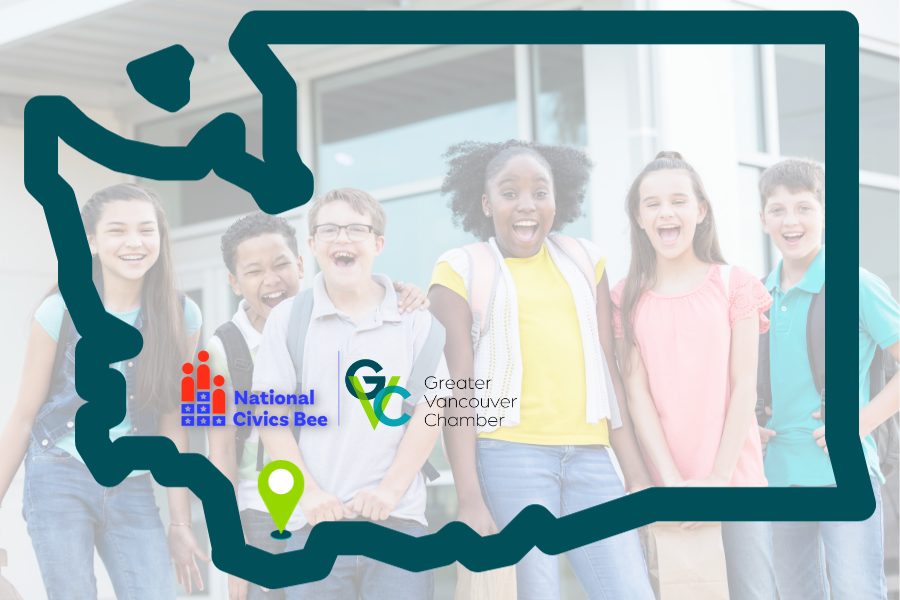 GREATER VANCOUVER CHAMBER LAUNCHES REGISTRATIONS FOR 2024 NATIONAL CIVICS BEE 
This annual competition encourages young Americans to engage in civics and contribute to their communities.
Vancouver, WA - The Greater Vancouver Chamber (GVC) announces the opening of essay submissions for the 2024 National Civics Bee. Organized in partnership with The Civic Trust of the U.S. Chamber of Commerce Foundation, this initiative provides students in southwest Washington with an opportunity to enhance their understanding of American democracy and showcase their civics knowledge for a chance to win recognition and cash prizes. 
All local 6th, 7th, and 8th graders are invited to participate in the first round of the contest, consisting of a short 500-word essay competition. The essay prompts students to identify an opportunity or problem in their community and share their thoughts and ideas on potential solutions. This exercise encourages students to explore issues relevant to their communities, fostering a deeper understanding of civic engagement and nurturing responsible citizenship. The submission period is open through January 8, 2024. 
Following the essay review by a panel of judges composed of business and community leaders, the top 20 students will progress to the final round: a live quiz event designed to test their civics knowledge. 
"At the Chamber, we're excited to reintroduce the National Civics Bee for its second year, reinforcing our commitment to advancing civic education for the youth in our community. This competition is not just a quiz; it's a catalyst for inspiring middle school students in southwest Washington to become better informed about local, federal, and state governments. The knowledge gained through this initiative will equip these young minds with a competitive edge in the job market," said Janet Kenefsky, Vice President of Membership and Operations for the Chamber.  
The live quiz event is scheduled for Saturday, March 23, 2024. The top three winners from southwest Washington will advance to the state competition. 
Participating students in the National Civics Bee stand a chance to gain recognition for their civics knowledge and skills while competing for prizes, including $500 cash for the first-place student, $250 for the second place, and $125 for the third place. 
For detailed information on the essay topic, competition rules, and submission guidelines, middle school students, parents, mentors, teachers, and nonprofit organizations working with kids can visit: VancouverUSA.com/NationalCivicsBee. Educators and parents interested in accessing the teacher guide can find it at: https://www.vancouverusa.com/assets/pdf/Student_Parent_Guide/. 
The 2024 National Civics Bee is proudly sponsored by Columbia Credit Union and United Grain Corporation. Business leaders interested in sponsoring this program are encouraged to contact the Greater Vancouver Chamber at yourchamber@vancouverusa.com.  
About the National Civics Bee
The National Civics Bee is an annual competition that encourages young Americans to engage in civics and contribute to their communities. In the first round of the contest, local middle school students will participate in an essay competition. Judges will then select 20 finalists to participate in our local competition: a live quiz event testing civics knowledge. The top three students from each local competition will advance to the state competition.   
About the Greater Vancouver Chamber
SW Washington's largest business organization, the Greater Vancouver Chamber (GVC), with nearly 1000 members, has been Moving Business Forward in southwest Washington for over 130 years through business advocacy, community building, education, and creating visibility for our members. The Chamber is a supportive alliance of diverse member businesses, individuals, and organizations, working together toward long-term business prosperity. The GVC is the heart of Clark County's business community, advocating for sound, sensible and dynamic policies that ensure a vital economic climate and prosperity for all. For more information, please visit VancouverUSA.com.