Greater Vancouver Chamber and Economic Development Partners to Host the 2024 Legislative Outlook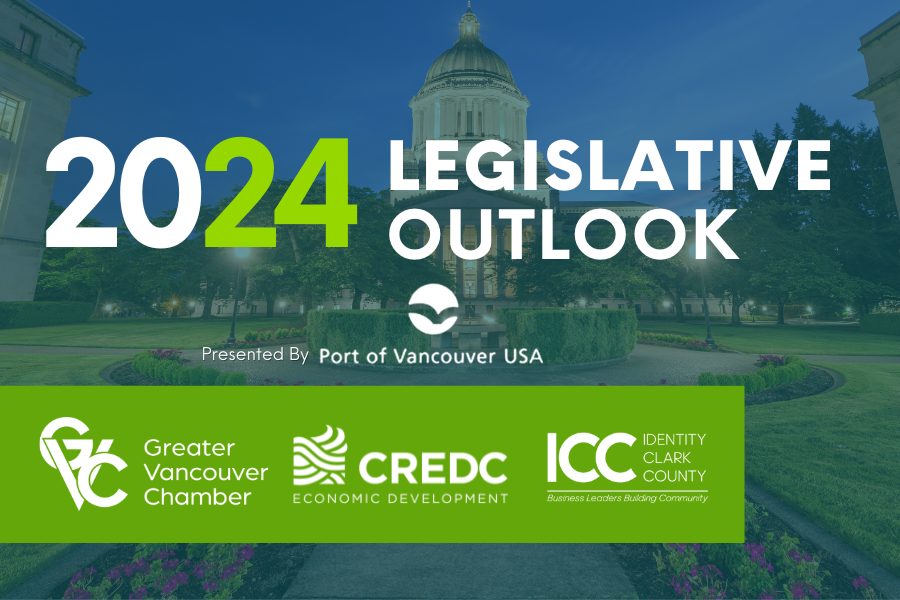 GREATER VANCOUVER CHAMBER AND ECONOMIC DEVELOPMENT PARTNERS TO HOST THE 2024 LEGISLATIVE OUTLOOK   
This event is a unique opportunity to hear directly from lawmakers about the priorities that will be championed in the upcoming legislative session which convenes Jan. 8, 2024. 
Vancouver, WA- The Greater Vancouver Chamber (GVC), the Columbia River Economic Development Council (CREDC), and Identity Clark County (ICC) are set to host the 2024 Legislative Outlook event. Presented by Port of Vancouver USA, the annual gathering is scheduled to take place in person on Friday, December 8, at the Hilton Vancouver Washington.  
Featuring Washington State senators and representatives from the 17th, 18th, 20th and 49th Legislative Districts, this event will provide attendees with the latest updates on legislative changes impacting the growth and vitality of businesses in southwest Washington. Attending this event is a unique opportunity to hear directly from lawmakers about the priorities that will be championed in the upcoming legislative session which convenes Jan. 8, 2024. 
The topics of discussion will encompass crucial areas such as transportation and infrastructure, law enforcement, taxes, public safety, workforce development, and environment and climate. Joint priorities submitted to the legislative delegation before the upcoming session will be highlighted during the event, offering insights into how these issues will be addressed. 
"Cultivating dialogue between our local legislators and the business community is pivotal for shaping a thriving future in southwest Washington. The 2024 Legislative Outlook provides a vital platform for meaningful discussions on key issues impacting our region. We are honored to host this event, fostering collaboration and understanding between policymakers and businesses," said GVC President & CEO John McDonagh. 
Doors will open at 8:45 AM, providing attendees with time to network and chat with fellow professionals about matters that are important to industry leaders and executives. A panel-style event will follow at 9:00 AM, offering the opportunity to engage with local legislators and ask pressing questions. To submit questions to legislators through the anonymous form, visit:  https://tinyurl.com/ms39ue5s. (Submitted questions are not guaranteed to be answered during the event.)  
Registration is open for the 2024 Legislative Outlook. Tickets are available $45 for single admission and $500 for a VIP table, with admission for eight. For more information and to reserve your spot or VIP Table, please visit https://business.vancouverusa.com/events/details/2024-legislative-outlook-23052.  
To review the Joint Legislative Priorities of the GVC, CREDC and ICC visit:  https://www.vancouverusa.com/advocacy/legislative-advocacy/ 
The GVC, CREDC, and ICC recognize and appreciate the continued support from event Presenting Sponsor, Port of Vancouver USA; Community Sponsors, BNSF Railway, C-TRAN, Chevron, Kaiser Permanente, and NW Natural; Media Sponsor, The Columbian; and Pastry Sponsor, CASCADE INN. 
About the Greater Vancouver Chamber
SW Washington's largest business organization, the Greater Vancouver Chamber (GVC), with nearly 1000 members, has been Moving Business Forward in southwest Washington for over 130 years through business advocacy, community building, education, and creating visibility for our members. The Chamber is a supportive alliance of diverse member businesses, individuals, and organizations, working together toward long-term business prosperity. The GVC is the heart of Clark County's business community, advocating for sound, sensible and dynamic policies that ensure a vital economic climate and prosperity for all. For more information, please visit VancouverUSA.com. 
About the

Columbia River Economic Development Council
The Columbia River Economic Development Council (CREDC) is the leading economic development organization for Clark County, working to advance the economic vitality of the region through business growth and innovation. CREDC's mission is to develop a strong, innovative business environment across Clark County in collaboration with over 150 private and public sector partners. Learn more at: https://credc.org/
About

Identity Clark County 
Identity Clark County is a 30-year-old organization comprised of influential private sector business leaders who seek to build a better community. The nonprofit organization maintains an office in Vancouver and a lobbying presence in Olympia. More information at www.iccbusiness.org.