GVC Announces NW Premier – Creative Financial Solutions as Presenting Sponsor for Inspire HER Conference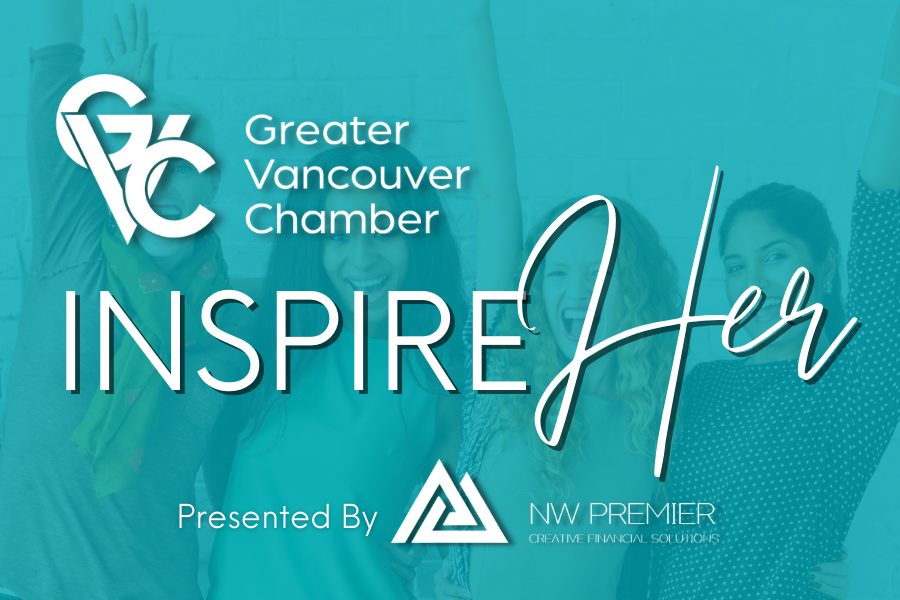 GREATER VANCOUVER CHAMBER ANNOUNCES NW PREMIER- CREATIVE FINANCIAL SOLUTIONS AS PRESENTING SPONSOR FOR INSPIRE HER CONFERENCE 
This transformative leadership event promises a dynamic blend of inspiration and education, featuring renowned speakers, breakout sessions, networking opportunities, and the prestigious Iris Awards. 
Vancouver, WA - The Greater Vancouver Chamber (GVC) proudly announces NW Premier - Creative Financial Solutions as the Presenting Sponsor of its upcoming Inspire HER Conference, to be held on March 7, 2024, at the Hilton Vancouver Downtown. Dedicated to celebrating and advancing professional women, the Inspire HER Conference is a full-day empowering event featuring renowned speakers, breakout sessions, networking opportunities, and the prestigious Iris Awards. 
NW Premier - Creative Financial Solutions, based in Vancouver, WA, specializes in providing tailored and world-class services to realtors, independent contractors, and small business owners. With a belief in becoming partners with their clients, NW Premier offers a comprehensive range of services through their three departments: Bookkeeping, Financial Consulting, and Business Planning. 
"Celebrating women's empowerment and professional growth is not just a vision; it's our culture. NW Premier - Creative Financial Solutions is honored to be the Presenting Sponsor of the Chamber's Inspire HER Conference. The vast majority of our clients are female business owners and we are intrinsically connected to their success. We believe in fostering a community where anyone has the opportunity to thrive. We're excited to be part of an event that celebrates achievements, promotes connections, and inspires lasting change," stated NW Premier Owners Mike Ross and Nathan Ganz.  
The Inspire HER Conference aims to foster inclusivity and growth, welcoming professionals of all levels and backgrounds, regardless of gender. Over 400 professionals from across the region will gather for a day of inspiration, education, and networking. The event will feature a renowned keynote speaker, multiple breakout sessions with expert speakers, and a tradeshow-style space providing opportunities for meaningful business connections. 
"We are thrilled to have NW Premier - Creative Financial Solutions on board as our Presenting Sponsor for the Inspire HER Conference," said Janet Kenefsky, Vice President of Membership and Operations at GVC. "Their commitment to empowering professionals aligns perfectly with the goals of this conference. We invite the Southwest Washington community to join us for a day of growth, empowerment, and celebration of International Women's Week!" added Kenefsky.  
The conference kicks off at 8:00 am and concludes at 4:00 pm, followed by a Women & Wine reception featuring women winemakers, creating a relaxed environment for networking and further collaboration. 
Highlighting the day is the 2024 Iris Awards Luncheon, honoring exceptional women of achievement in southwest Washington. Each year, outstanding women from the region are recognized for their remarkable contributions, be it professional, philanthropic, civil, or otherwise. 
Individual tickets or VIP tables for the Inspire HER Conference are now available and can be purchased at https://vancouverusa.chambermaster.com/eventregistration/register/24579. For more information about the conference, event tickets, and sponsorship opportunities, please visit the official conference website: https://www.vancouverusa.com/inspireherconference/.  
About the Greater Vancouver Chamber
SW Washington's largest business organization, the Greater Vancouver Chamber (GVC), with nearly 1000 members, has been Moving Business Forward in southwest Washington for over 130 years through business advocacy, community building, education, and creating visibility for our members. The Chamber is a supportive alliance of diverse member businesses, individuals, and organizations, working together toward long-term business prosperity. The GVC is the heart of Clark County's business community, advocating for sound, sensible and dynamic policies that ensure a vital economic climate and prosperity for all. For more information, please visit VancouverUSA.com.  
About the Iris Awards
Wanting to recognize women of achievement in Southwest Washington who exemplified leadership, philanthropy, and community service was the inspiration for the Iris Awards in 1985. For 38 years, the southwest Washington community has nominated outstanding women for recognition. The Iris Award is held to commemorate National Women's History Month, to recognize International Women's Day, and to honor volunteer efforts and community leadership of women in Clark County.