Greater Vancouver Chamber Reveals the 2023 Business & Leadership Awards' Honorees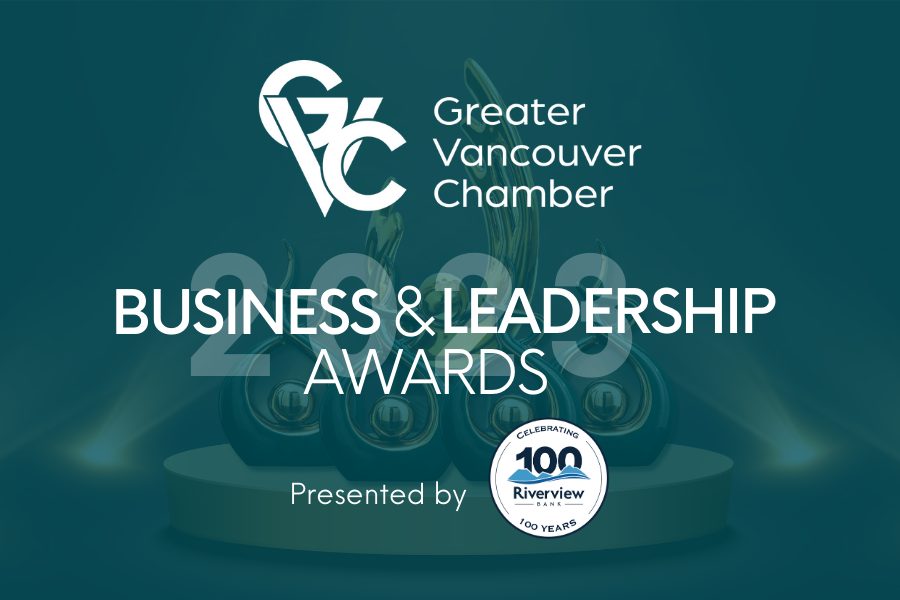 GREATER VANCOUVER CHAMBER REVEALS THE 2023 BUSINESS & LEADERSHIP AWARDS' HONOREES 
Outstanding businesses and leaders were honored in an award ceremony held at the Battle Ground Community Center. 
CLICK TO SEE PICTURES OF THE VIP SOCIAL AWARDS CEREMONY
Vancouver, WA- The Greater Vancouver Chamber (GVC) is delighted to announce the recipients of the 2023 Business & Leadership Awards, presented by Riverview Bank. These prestigious awards celebrate the exceptional achievements and contributions of businesses and individuals dedicated to the growth and prosperity of the southwest Washington region. 
Start-Up to Watch Award: OMW Uptown Market 
OMW Uptown Market, a beacon of tenacity, vision, and strong business practices, claimed the Start-Up to Watch Award. This innovative establishment redefines grocery shopping with its thoughtful design, championing efficiency and community engagement. OMW Uptown Market serves as not just a store but also a communal hub, fostering connections among neighbors and friends. 
Small Business Award: When the Shoe Fits 
When the Shoe Fits was honored with the Small Business Award. Recognized for their remarkable growth and dedication to superior service, When the Shoe Fits stands out as an asset to the community, transforming lives one pair of shoes at a time. Their commitment to customers, employees, and community development sets a commendable example for businesses in the region. 
Large Business Award: Orchards Grocery Outlet 
Orchards Grocery Outlet, a community-oriented organization employing over 25 individuals, received the Large Business Award. This locally owned establishment not only excels in market share and sales but also contributes significantly to the region's economic vitality. Orchards Grocery Outlet's commitment to community partnerships and job creation underscores their pivotal role in supporting the local economy. 
Statesperson of the Year: Mayor Philip Johnson, City of Battle Ground 
Mayor Philip Johnson of the City of Battle Ground was named the Statesperson of the Year, recognizing his collaborative efforts and dedication to enhancing economic prosperity. Mayor Johnson's steadfast commitment to public service, leadership, and community development has made a lasting impact, earning him this well-deserved accolade. 
First Citizen Award: Kim & Lisa Capeloto 
During the award ceremony, Kim and Lisa Capeloto were introduced as the 2023 First Citizen Award honorees, acknowledging their outstanding contributions to community growth, business development, inclusivity, and advocacy for positive change. 
"We are truly humbled by this recognition. Being included in the esteemed group of past First Citizens is both surreal and inspiring. We are fortunate to follow in the footsteps of those who have paved the way for us," expressed Kim Capeloto in response to the honor. 
According to the GVC President & CEO John McDonagh, "The 2023 Business & Leadership Awards truly showcase the innovation, dedication, and collaborative spirit that define our region. We congratulate the award recipients and honorees for their outstanding contributions, and we are inspired by their impact on our local economy and community". "These awards reinforce our Chamber commitment to fostering a thriving business environment in the Greater Vancouver area, and we look forward to continuing our support for the growth and success of our business community", added McDonagh.  
The award ceremony and live-streamed event, held on October 5th at the Battle Ground Community Center, was made possible by the generous support of event sponsors, including Presenting Sponsor Riverview Bank, Media Sponsor The Columbian, Award Sponsors PeaceHealth, NW Natural, HAPO Community Credit Union, PacificSource Health Plans, and Perkins & Co, as well as Photobooth Sponsor VIP Photobooth and VIP Access Holders iQ Credit Union, MacKay Sposito, Vancouver Clinic, Capacity Commercial Group, Realvest Corporation, and Nierenberg Investment Management Company. 
For more information about the awards and sponsorship opportunities for the next year, please contact the Chamber at YourChamber@VancouverUSA.com or visit VancouverUSA.com/Business-Leadership-Awards/. 
About the Business & Leadership Awards
Wanting to recognize those businesses who exemplified the motto of the Greater Vancouver Chamber, Moving Business Forward, was the inspiration for the Business & Leadership Awards in 2012. For 11 years, the southwest Washington business community has nominated outstanding companies and individuals for recognition. 
About the First Citizen Award
Since 1939, the annual First Citizen Award has been presented to a Clark County resident who models the attributes of good citizenship through leadership, action, civic pride, and cultivates inclusive civic engagement practices. These are individuals who, through their business, volunteering, and philanthropic efforts, improve the lives of those in the community by serving first. For more information about the First Citizens through the years, visit: https://www.vancouverusa.com/business-leadership-wards-winners/ 
About the Greater Vancouver Chamber
SW Washington's largest business organization, the Greater Vancouver Chamber (GVC), with nearly 1000 members, has been Moving Business Forward in southwest Washington for over 130 years through business advocacy, community building, education, and creating visibility for our members. The Chamber is a supportive alliance of diverse member businesses, individuals, and organizations, working together toward long-term business prosperity. The GVC is the heart of Clark County's business community, advocating for sound, sensible and dynamic policies that ensure a vital economic climate and prosperity for all. For more information, please visit VancouverUSA.com.