Greater Vancouver Chamber and Economic Development Partners to Host the 2023 Legislative Review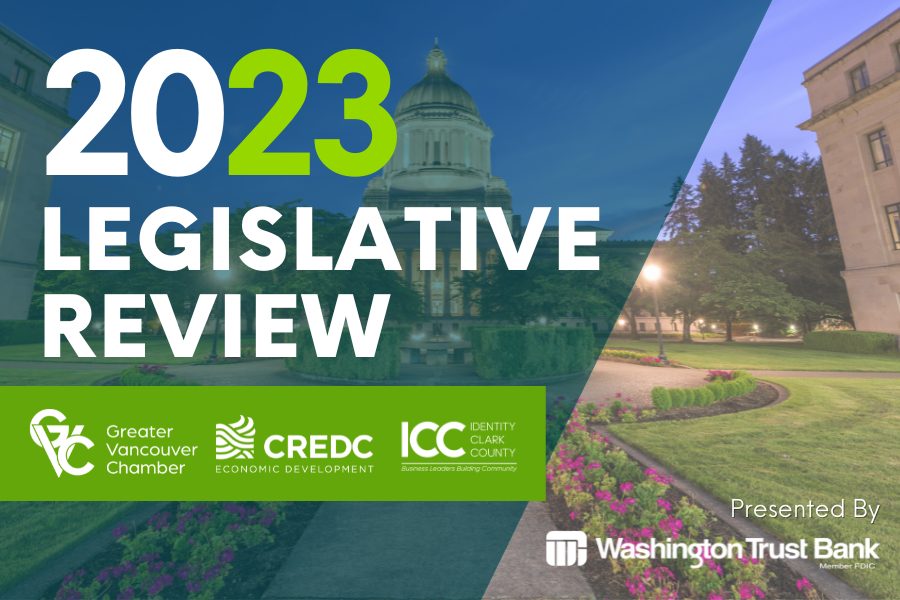 GREATER VANCOUVER CHAMBER AND ECONOMIC DEVELOPMENT PARTNERS TO HOST THE 2023 LEGISLATIVE REVIEW   
This annual event gathers local legislators, Washington state lobbyists, and over 300 business and civic leaders across the region for an end-of-session review.   
Vancouver, WA- The Greater Vancouver Chamber (GVC), the Columbia River Economic Development Council (CREDC), and Identity Clark County (ICC) will host the 2023 Legislative Review, presented by Washington Trust Bank, in person on Friday, May 12 at the Hilton Vancouver Washington. 
Featuring senators and representatives from the 17th, 18th, 20th and 49th Legislative Districts, this year's event will provide attendees with the latest updates on legislative changes affecting the growth and vitality of businesses in the Greater Vancouver area. Attending this event is a unique opportunity to hear directly from policymakers about the achievements and obstacles they encountered while working on the business community's top priorities. 
Law enforcement, I-5 Bridge Replacement Program, taxes, public safety, Long-Term Care Tax, and workforce development were among the Joint Priorities submitted to our Legislative Delegation prior to the session. During the panel-style event we'll hear whether or not and how our priorities were addressed. 
"We're thrilled to bring the Legislative Review back in person this year," said GVC President & CEO John McDonagh. "This event will provide a critical forum to learn about the latest legislative developments, outline potential priorities and challenges for next year, and connect with peers in our community," added McDonagh.  
Doors will open at 8:45 AM, providing attendees with time to network and chat with fellow professionals about matters that are important to industry leaders and executives. The Review of the 2023 Session discussion will follow at 9:00 AM, offering the opportunity to engage with local legislators and ask pressing questions regarding the new or modified policies effected during the session. To submit questions to legislators through the anonymous form, visit:  https://bit.ly/3K2KXS3. (Submitted questions are not guaranteed to be answered during the event.) 
The GVC, CREDC, and ICC recognize and appreciate the continued support from event Presenting Sponsor, Washington Trust Bank; Community Sponsors, BNSF Railway, C-TRAN, Chevron, Kaiser Permanente, and Waste Connections, Inc.; VIP Table Holders, IBEW LOCAL 48, Mackenzie, Port of Vancouver USA, Legacy Health, Palm Beach Tan, The City of Battle Ground, City of La Center, Walsh Construction, Co., Clark Public Utilities, Midwest Trust, PacificSource Health Plans, and PEACE NW; and Media Sponsor, The Columbian.    
Registration is now open for the 2023 Legislative Review. For more information and to reserve your spot or VIP Table, please visit https://business.vancouverusa.com/events/details/2023-legislative-review-23045. 
To review the Joint legislative Priorities of the GVC, CREDC and ICC visit:  https://www.vancouverusa.com/advocacy/legislative-advocacy/  
About the Greater Vancouver Chamber
SW Washington's largest business organization, the Greater Vancouver Chamber (GVC), with nearly 1000 members, has been Moving Business Forward in southwest Washington for over 130 years through business advocacy, community building, education, and creating visibility for our members. The Chamber is a supportive alliance of diverse member businesses, individuals, and organizations, working together toward long-term business prosperity. The GVC is the heart of Clark County's business community, advocating for sound, sensible and dynamic policies that ensure a vital economic climate and prosperity for all. For more information, please visit VancouverUSA.com.  
About

the Columbia River Economic Development Council 
The Columbia River Economic Development Council (CREDC) is the leading economic development organization for Clark County, working to advance the economic vitality of the region through business growth and innovation. CREDC's mission is to develop a strong, innovative business environment across Clark County in collaboration with over 150 private and public sector partners. Learn more at: https://credc.org/
About

Identity Clark County 
Identity Clark County is a 30-year-old nonprofit business advocacy organization comprised of about 90 influential business leaders who together strive to build a better community. The privately funded organization maintains an office in Vancouver and a lobbying presence in Olympia. More information is at www.iccbusiness.org.