GVC and Economic Development Partners Hosted the 2022 Legislative Review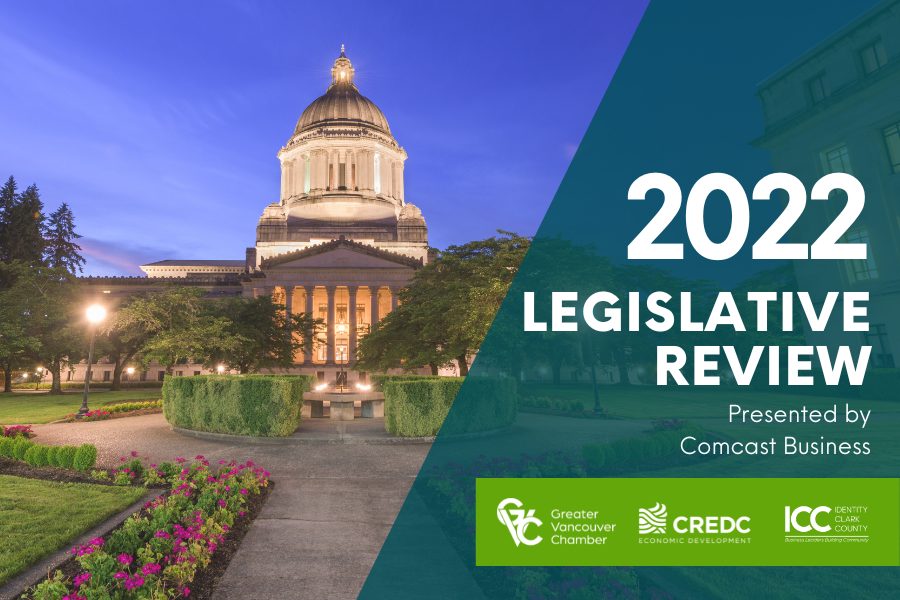 GREATER VANCOUVER CHAMBER AND ECONOMIC DEVELOPMENT PARTNERS  HOSTED THE 2022 LEGISLATIVE REVIEW
State representatives and senators participated in a live Q&A session with business professionals to offer a  fresh view of what is happening in Olympia and what to expect from new legislation. The 2023 Legislative Outlook will be an in-person event on December 9, 2022.  
Vancouver, WA - The Greater Vancouver Chamber (GVC), the Columbia River Economic Development Council (CREDC), and Identity Clark County (ICC) hosted the 2022 Legislative Review, virtually, on Friday, April 29, presented by Comcast Business. This annual event gathered local legislators, Washington state lobbyists, and over 100 business leaders across the region to discuss the most recent legislative session and outline the priorities and challenges for next year. 
Taxes, I-5 Bridge Replacement Program, employment law, police reform, housing & homelessness, public safety, education, and Long-Term Care Tax were the main topics addressed during this year's conversation.  
With the participation of lobbyists Tommy Gantz, Association of Washington Business; Brian Enslow, Arbutus Consulting; and Amber Carter, Amber Carter Government Relations, LLC in a panel-style discussion, moderated by Jennifer Baker, president of CREDC, the event started giving attendees an inside view of what transpired in Olympia during the 2022 Legislative Session. Although there were victories this year that directly impacted the Southwest Washington region, from the panelists point of view there is still work to be done and opportunities to continue advocating for businesses in the area.  
"Our focus was not on where the priorities were, but what we would have liked to see them being, which was tax relief for our businesses who really suffered during the COVID pandemic," said Gantz, who is concerned for businesses still struggling from the impact of the COVID pandemic and needing to on plan around new taxes and new liabilities.  
In anticipation for the 2023 legislative session, Amber Carter encouraged business owners and stakeholders to get more involved, raise their voices, and stay tuned-in for new bills, especially now when "half of the senate is up for election, which means a lot of education needs to occur on the key issues that affect your business and your community". The lobbyists mentioned that inflation, employment law, public safety, and energy codes will be some of the issues to put emphasis on in the next session.    
After the panel, representatives Sharon Wylie, Vicki Kraft, Paul Harris, and Monica Stonier, and senators Annette Cleveland and Lynda Wilson joined Ron Arp, president of ICC, in a live question-and-answer session, that allowed the audience to interact with their local legislators. One of the crucial topics of discussion was the historic legislature approval of the Move Ahead Washington transportation package, which will assign $1 billion to fund Washington's portion of the I-5 replacement bridge across the Columbia River.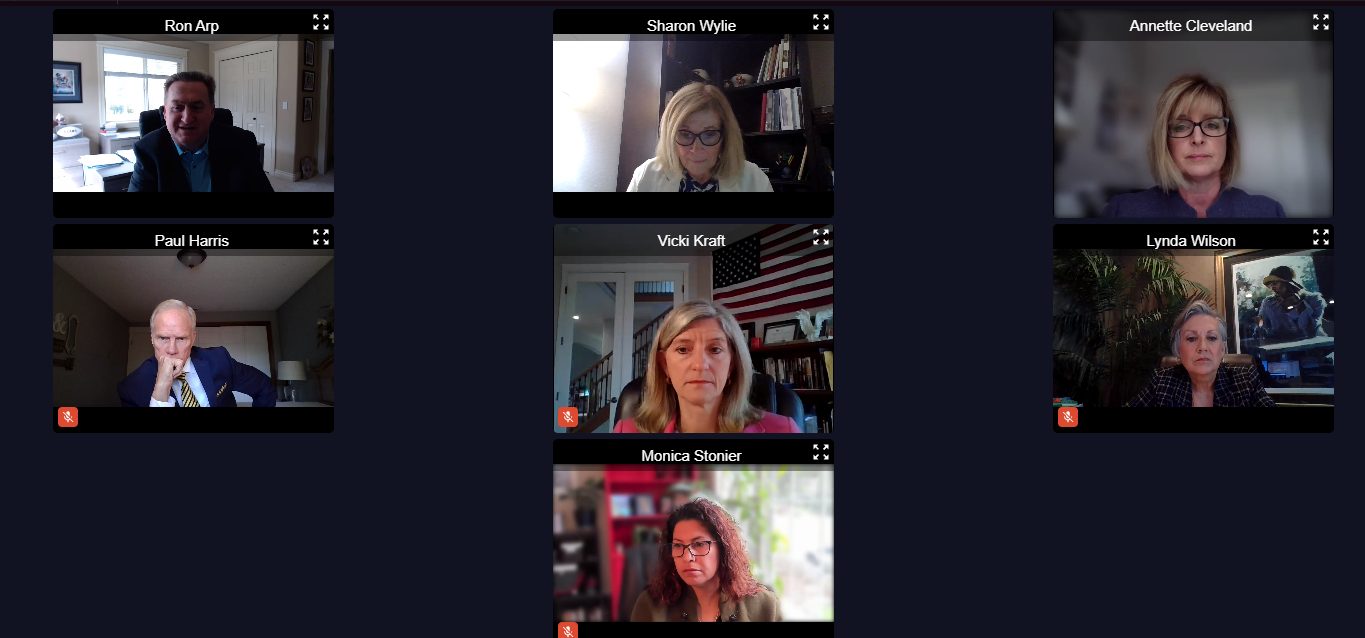 Representative Wylie shared her excitement for the success of this project, but also the challenges along with it. "It's probably the hardest thing I have ever done as a public official or as an individual. By the end of this summer, a lot of people are going to have to go back to their communities and defend their work on both sides of the river. We are heading into the most critical and difficult part of the process in the next few months," stated Wylie, representative of the 49th District.  
In another topic, representative Kraft talked about the importance of tax reductions to keep small businesses open. "If we help our businesses by reducing the amount of taxes we put on them, they are going to be able to thrive and grow a lot,'' commented Kraft, from the 17th District.    
Looking ahead to the 2023 Legislative Session, the state representatives and senators will concentrate their efforts on crime and public safety, education, Long Term Care Tax, and environment, among other issues. For Representative Stonier, of the 49th Legislative District, partnering with legislators and creating a network of support with businesses and organizations to find solutions to these issues will be the key to succeed.  
"Our county, our city, and our state legislators need to address these issues together, because our challenges here in southwest Washington do not always match the same challenge across other regions of the state. I'll be looking into the business community to provide guidance there as well," said representative Stonier. 
To conclude the event, the President & CEO of the Greater Vancouver Chamber John McDonagh announced that the 2023 Legislative Outlook returns as an in-person event on Friday, December 9, featuring Senators and Representatives from the from the 17th, 18th, 20th, and 49th Legislative Districts.  
The GVC, CREDC, and ICC recognize and appreciate the continued support from event Presenting Sponsor, Comcast Business; Community Sponsors, Chevron, The Columbian, BNSF Railway, C-TRAN, ilani, Kaiser Permanente, and Waste Connections Inc.; and VIP Table Holders, Clark Public Utilities, Community in Motion, HAPO Community Credit Union, IBEW LOCAL 48, NW Natural, PacificSource Health Plans, Port of Vancouver USA, and Corwin Beverage Company.  
For specific information on the Joint Legislative Priorities of the GVC, CREDC and ICC visit: Vancouverusa.com/advocacy/legislative-advocacy/ 
About the Greater Vancouver Chamber
SW Washington's largest business organization, the Greater Vancouver Chamber (GVC), with nearly 1000 members, has been Moving Business Forward in southwest Washington for over 130 years through business advocacy, community building, education, and creating visibility for our members. The Chamber is a supportive alliance of diverse member businesses, individuals, and organizations, working together toward long-term business prosperity. The GVC is the heart of Clark County's business community, advocating for sound, sensible and dynamic policies that ensure a vital economic climate and prosperity for all. For more information, please visit VancouverUSA.com.  
About

the Columbia River Economic Development Council 
The Columbia River Economic Development Council (CREDC) is the leading economic development organization for Clark County, working to advance the economic vitality of the region through business growth and innovation. CREDC's mission is to develop a strong, innovative business environment across Clark County in collaboration with over 150 private and public sector partners. Learn more at: https://credc.org/ 

About

Identity Clark County 
Identity Clark County is a 29-year-old nonprofit business advocacy organization comprised of about 90 influential business leaders who together strive to build a better community. The privately funded organization maintains an office in Vancouver and a lobbying presence in Olympia. More information is at www.iccbusiness.org.