FUTURE CEO: Your entrepreneurial journey starts here!
My Lemonade Day is a free program powered by the Greater Vancouver Chamber that takes kids 6-16 years old on a entrepreneurial journey, teaching them everything they need to know to open their very own business! Participants learn how to create budgets, set profit-making goals, serve customers, repay investors, and give back to the community.
After creating their business plan with the help of the guided virtual program, these young CEOs are ready to host their very own booth and sell their handmade or homegrown products at the Junior Market (co-located with the Vancouver Farmers Market).
My Lemonade Day Lessons & the Junior Market work together to make sure today's youth learn how to run a successful business!
Getting started is easy-peasy lemon squeezy!
Whether you use the Lemonade Day App on your own, in school, in Scouts, or with neighborhood friends, or take the lessons in the physical workbook, this program takes kids on a step-by-step entrepreneurship journey through fun and interactive lessons!
The Greater Vancouver Chamber has partnered with the Vancouver Farmers Market to offer one special day of the year when kids can host their very own booth in a profitable location, and sell their handmade or homegrown products!
Kids, groups, or classes can start their business journey now! Sign up and begin your entrepreneurial lessons, build your business plan, budget for supplies, and learn how to make money. Then join us at the Junior Market, every summer, and put your skills to the test!
The 2023 Junior Market was a hit!
More than 300 young CEOs 6-16 years old from across the region took over the Esther Short Park on June 3rd with their booths to run their businesses for a day and sell handmade or homegrown products to thousands of Farmers Market's consumers.
Owner of Brielle's Marvelous Candles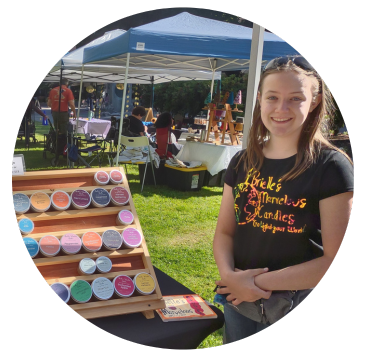 After a successful day of sales at the Junior Market on June 3rd, Brielle, owner of Brielle's Marvelous Candles, was named the Vancouver Youth Entrepreneurs of the Year (2023).
This year scoring was based on the business plan, pitch, revenue, product presentation, and overall implementation of what they learned from the Lemonade Day Lessons.
Congratulations, Brielle!
Be a Junior Market Volunteer!
We believe volunteering can be a fantastic stepping stone for our kidpreneurs and future CEOs. Volunteering offers hands-on experience, problem-solving skills, and connections that can pave the way to a successful entrepreneurial journey. Plus, it's a great way for kids to learn the importance of giving back to their community. Let's inspire the next generation of changemakers with our example!
Follow us on Social Media!
And the Junior Market was...
"I got a lot of money! In fact, we made $800. Each of us got $400. Everything sold!"- Participant
"Thank you for holding this event! My daughter and I had a good time, learned a lot, and look forward to using what we learned for next year's market."- Parent
"I am excited to know that the challenges we face in our economy and our future, all the solutions are right here, you all are providing us the entrepreneurial spirit that the Washington state is known for."- Representative Monica Stonier
"It was fun to create stuff and see people wanting to buy it."- Participant
"This was the most amazing event full of amazing kids and amazing volunteers. We thoroughly enjoyed it! And will be back next year with MORE MUSHROOMS!"- Parent
"It's impressive how all of you turned your ideas into a local business model. Many of the Vancouver businesses began just as yours, with an idea and a passion for what they do."- Vancouver City Council member Erik Paulsen
"I like seeing how it is from the seller side rather than the buyer."- Participant
"We had such a great experience at this event! Will definitely do it again next year! Thank you!"- Parent
"What a great experience! Even the rain couldn't keep those entrepreneurs down!"- Chad Mullen, Career Connect Southwest Network
"Today was very rewarding. I would do it again!"- Participant
"My son got invited to bring his scavenger hunt to another market in Portland. It seems like it's lead to other opportunities."- Parent
"Absolutely love GVC's Lemonade Day. Nurturing entrepreneurialism with our community's youth! Thank you GVC and all the volunteers who made this event possible!"- Steve Webb, Steve Webb Group
"This event was very well organized. Thank you Greater Vancouver Chamber and all the volunteers. The kids did a fantastic job too!"- Parent
"Congratulations to the Chamber and all the budding entrepreneurs on a great success!"- Vickei Hrdina, Career Connect Southwest Network
"Big thanks for all the energy, intention, and time that went into making it great."- Parent
"It was awesome to see so many enterprising and talented youths! #lemonadeday"- Maureen Chan-Hefflin, CREDC
Not a kidpreneur, but want to get involved? The Lemonade Day program is helping young entrepreneurs develop the skills necessary to grow their own thriving businesses. You can be a part of this ever-growing movement to build the future leaders of tomorrow by donating today!
Increase your brand awareness
As a sponsor, the Lemonade Day program gives your company a unique opportunity to target business leaders, professionals, educators, parents, and community members from across the region. In addition, put your business in front of thousands of customers who join us at the Junior Market in June!

Thank you to our program investors
Simply the Zest Investors
Spoonful of Sugar Investor