Grow the (360) eGift Cards
Grow the (360) is a 'locals businesses only' eGift Card program coordinated by the Greater Vancouver Chamber. It's one way to support local businesses while giving a thoughtful gift to a loved one - including yourself!
Purchase Grow the (360) eGift Cards
How it Works
Purchase eGift Cards online
All you need is an email address to receive the eGift Card and a credit or debit card. Email it to yourself, print it out, or email directly to your gift recipient.
Spend in-store at 70+ participating local businesses
That's it - really!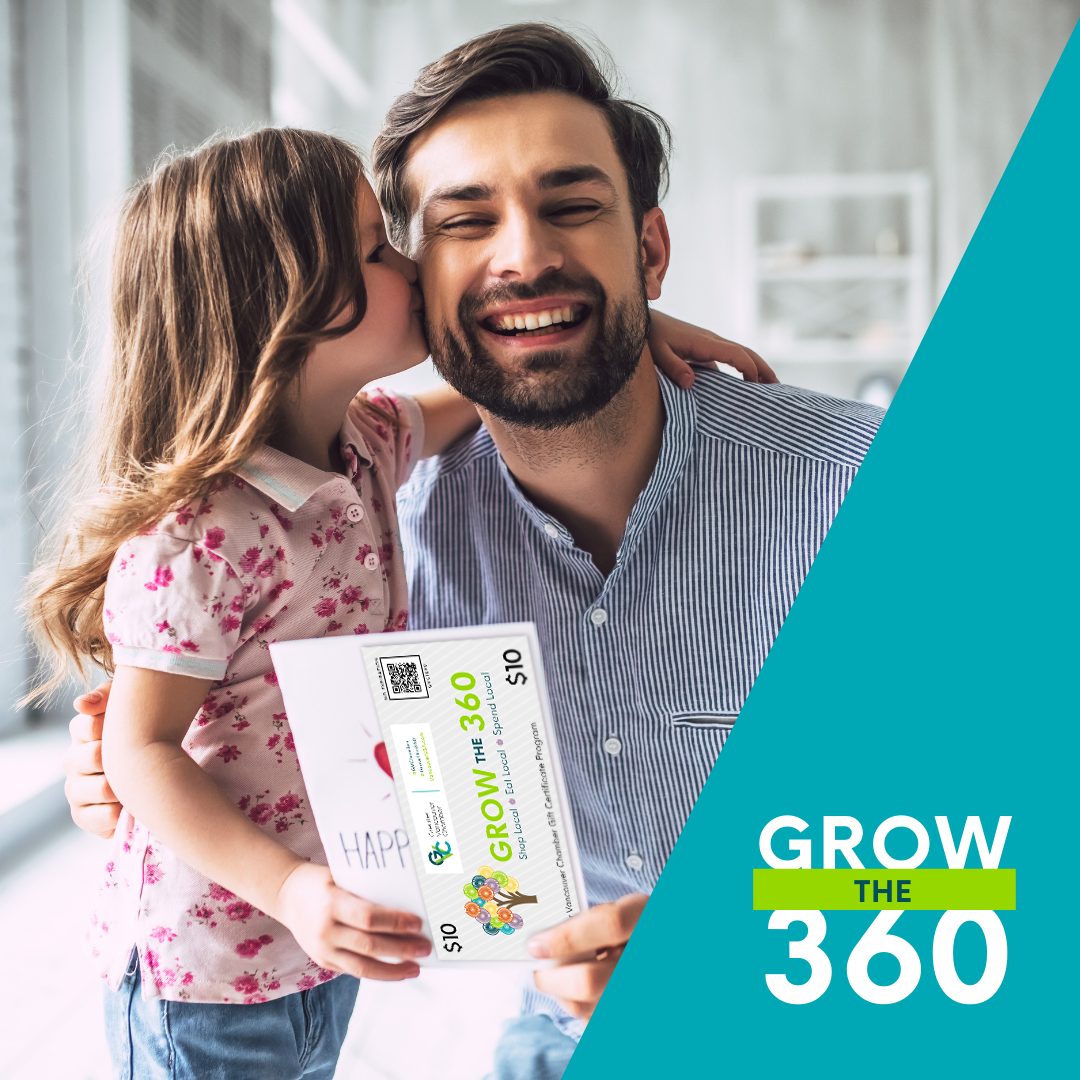 Why buy Grow the (360) eGift Cards?
An eGift Card always 'fits'! Let your loved one choose their own unique gift from dozens of retailers, service providers, and restaurants.
Find new favorites by spending your eGift Cards at a local business you haven't tried before. Use the hashtag #GrowThe360 and we might repost you!
eGift Cards guarantee that the money will support local businesses and our regional economy, including your neighbors.
Supporting local businesses radiates out to supporting jobs and philanthropy such as youth program sponsorship. Think of it like a mini economic stimulus every time you shop local.
Customer service from a small business that lives and thrives off repeat customers is likely going to be of a higher quality than customer service from a large corporation with little to no investment in the community.
Interested in signing up your business?
Find out more on our Grow the (360) merchant page.
Retailers, service providers, and restaurants that can accept in-person eGift Card transactions.
No. We hope you support local business all year round!
Yes and no. Each eGift Card is worth $5, $10, $20, $25, $50, or $100. Each eGift Card needs to be spent during a single transaction. If your eGift Card has remaining funds after your purchase, the merchant will have the option to issue you in-store credit or a cash balance. This is up to the discretion of each merchant. If you're not sure how the eGift Card(s) will be spent, we recommend purchasing several in small increments. For example, a single $50 eGift Card must be spent all at once at one merchant, but five $10 eGift Cards could be used across several merchants.
No. eGift Card QR codes can be scanned from your mobile device via the confirmation email. eGift Card QR codes must be presented at time of purchase. Once your code has been captured by a merchant it cannot be used again.
You can reprint the eGift Card(s) any time from the email you received when you purchased the eGift Card(s). eGift Cards are only "spent" when they are redeemed at a retailer. For this reason, we recommend that you protect your eGift Cards as if they were cash.
No. Each eGift Card has a unique QR code that, when verified by a merchant, cannot be reused or reloaded.
Yes. A receipt will be emailed to the address that was used to make the purchase. If you do not see a receipt after your order, check your spam folder. In the case that you do not receive a receipt, please contact us at: GrowThe360@VancouverUSA.com
Yes. We encourage Grow the (360) for all sorts of corporate gifting! If you're buying certificates in large quantities (1,000+ eGift Cards), please contact us at: GrowThe360@VancouverUSA.com. We will be able to organize this on behalf of your company or organization, and even include your logo on the eGift Cards. We can also add a special message to the redemption page.